PENGANTAR
Training Subsampling Sample (Retained Sample) Laboratorium – Dalam jaminan mutu hasil pengujian, telah jelas di informaskan bahwa untuk tingkat akurasi data hasil analisis ditentukan oleh sample yang di gunakan dalam analisa. Di mana beberapa faktor yang menyebabkan akurasi rendah yaitu adanya kesalahan dalam cara pengambilan sample, cara pengawetan, proses penyimpanan, transportasi/distribusi, preparasi sample yang salah, metode uji yang tidak tepat (update) dan sumber daya laboratorium yang tidak berkompeten. Secara teori melakukan subsampling merupakan teknik pengambilan sample dari suatu golongan (sample) lingkup area sebuah sample yang masuk ke sebuah laboratorium, sehingga hasil sampling (cuplikan) dari sample  tersebut dapat mewakili populasi/lingkup sample yang datang. Tentunya keberhasilan dalam melakukan subsampling di tentukan oleh berbagai aspek, diantaranya yaitu: jenis bahan (sample) dan tujuan analisisnya, perlakuan khusus sample yang harus dilakukan setelah sample uji di ambil untuk menghindari kontaminasi dan rusak.
Training Subsampling Sample (Retained Sample) Laboratorium – Atas dasar hal tersebut tentunya kondisi sebuah sample (contoh) sangat menentukan kesulitan yang akan di hadapi dalam proses subsampling. Untuk menghadapi kebutuhan tersebut tentunya bagi para analis/operator/petugas sampling di laboratorium harus memadai akan keahlian tersebut dan juga memiliki pengetahuan serta memenuhi persyaratan dalam menerapkan teknik yang pas dalam memperoleh sampel uji yang representatif, diharapkan dengan demikian keutuhan dan keabsahan sample uji yang di analisis laboratorium dapat dijamin hasil ujinya.
MAKSUD & TUJUAN
Dalam program Training Subsampling Sample (Retained Sample) Laboratorium ini bertujuan untuk memberikan pembekalan pengetahuan dan skill kepada sumber daya laboratorium agar menguasai semua aspek yang mempengaruhi ketepatan dalam pengambilan sample uji di antaranya yaitu setelah menyelesaikan program ini para peserta mampu:
Merencanakan dan menentukan prosedur subsampling sesuai dengan karakter samplenya (padatan, semipadat dan cairan) dengan berbagai macam bentuk seperti: bongkahan, butiran, serbuk, lembaran, gulungan dan sebagainya.
Menguasai dan memahami teknik statistik terkait dengan teknik subsamling yaitu seperti: Uji Homogenitas, Memahami aspek-aspek statistika yang berhubungan dengan teknik subsampling seperti uji homogenitas, pengambilan ulang sample dan jumlahnya, serta massa minimal sample yang harus diambil.
Menguasai serta memahami terkait dengan penanganan sample dari proses penerimaan, dokumentasi dan record sebagai bentuk pemenuhan persyaratan akreditasi.
BAHAN AJAR

Pengantar Persyaratan & Teknik subsampling
Prosedur subsampling: adm penerimaan sample, storage dan pemusnahan sample
Perhitungan statisti terkait dengan pelaksanaan subsampling.
Teknik Stability Test dan penangananya
Teknik pengambilan subsampling sample cair, solid (padatan), semi solid (semi padat)
MATERI PRAKTIKUM
Cara melakukan subsampling bahan padatan (solid)
Cara melakukan subsampling bahan semi padatan (semi solid)
Cara melakukan Ssubsampling bahan cairan
SIAPA PESERTA YANG DIREKOMENDASIKAN IKUT..??

Dalam program Training Subsampling Sample (Retained Sample) Laboratorium peserta yang di anjurkan ikut ialah mereka dengan latar belakang profesi sebagai: petugas sampling laboratorium, analis, kepala laboratorium dan semua pihak yang terlibat serta bertanggung jawab baik secara langsung maupun tidak dalam pengambilan sample di laboratorium.
INSTRUKTUR AHLI
Ir. Renaldo Moontri, MM
Memiliki latar belakang pendidikan Chemical Engineering dari Indonesia Institute of Technology (ITI) dan Master of Management, Universitas Negeri Jakarta. Memiliki pengalaman panjang sebagai praktisi dan konsultan sudah lebih dari 10 tahun. Dengan spesialisasi kompetensi diantaranya untuk bidang: Standarisasi (ISO 9001, ISO 14001, ISO 22000, OHSAS 18001 (Health and Safety), SNI ISO/IEC 17025, GMP, HACCP & Good Laboratory Practice), Business, Marketing & Management (Bisnis Strategic, Marketing Management, Operation Management & Human Resources Management). Dengan berbagai program pelatihan yang pernah beliau dapatkan seperti sebelumnya seperti: CPOB/GMP, Technique Sampling for Testing Sample, Quality Management System ISO 9001, 5R, Good Laboratory Practices, Penanganan Gas Bertekanan Tinggi, Penanganan Bahan Kimia Berbahaya dan Beracun (B3, Pengembangan Energi Baru dan Terbarukan Ramah Lingkungan, OHSAS 18001:2007, ISO 14001:2004 at Insitut Teknologi Indonesia, ISO 9001:2008, Integrating Upstream and Downstream Sector in Oil and Gas Industry to Fulfill National Energy Needs, Preparation ISO/IEC 17025, Internal Audit ISO/IEC 17025, Validation and Verification Method, Jaminan Sosial bagi Tenaga Kerja, Transformasi Menghadapi Persaingan Global, Technique Calibration of Mass, Dimension, Temperature, Electrical, Chemical Instrument, Forces, Uncertainty Measurement, Global Marketing Issue,  Implementasi Uji Profisiensi Berdasarkan ISO/IEC 17043. Pernah berkarir sebagai Monitoring, control and analysis of waste water in enviromental and water Pre-treatment  PT. Indomobil Suzuki Internasional, Quality Control Staff PT Ferron Par Pharmaceutical, Operational Manager PT Bina Media Development dan Chief Executive Owner (CEO) BMD Group Corp (PT Bisa Mandiri Strategi Investasi). Project team yang pernah ditangani diantaranya; Preparation Implementing SMK3 OHSAS 18001 PT Mitralab Buana, Lenteng Agung –  Jakarta Selatan, Preparation Implementing Good Manufacturing Practice PT Zena Nirmala Sentosa, Gunung Putri – Kab. Bogor, Certification ISO 9001:2008 PT Dinamika Teknik Persada, BSD – Tangerang Selatan, Certification ISO 9001:2008 PT Global Compliance Asia, BSD – Tangerang Selatan, Preparation Setup Sistem Operating Procedure, PT Kaltrabu – Banjarmasin Kalimatan Selatan, Preparation Accreditation ISO/IEC 17025:2005 PT Medifarma Laboratories Cimanggis Depok, Preparation Accreditation ISO/IEC 17025:2005 BP2KSI, Purwakarta – Jawa Barat, Preparation Accreditation ISO/IEC 17025:2005 PT Spektris, Tanah Abang – Jakarta Selatan, Evaluation Hygiene & Sanitation Water Treatment CV. Surya Pratama, Toli Toli – Sulawesi Tengah, Preparation Audit CPOTB CV Megah Delta Raya, Banjar Masin – Kalimantan Selatan, Review Calibration of Laboratory Instrument, BARISTAND Samarinda – Kalimantan Timur. Serta researchyang pernah dilakukan diantaranaya; Efficiency Performance of Vertical Heat Exchanger in PT Ferron Par Pharmaceutical, Pre Design of Monosodium Glutamate with Fermentation Processing used  Corynebacterium Glutamicum Bacteria dan Analysis Competitive Advantage, BMD Training Centre. Adapun berbagai project dimana beliau terlibat didalamnya diantaranya: Design Engineering Process Piping Distribution Gas Subang West Java – Merak Banten, Presentation for PT Pertamina Gas Jababeka West Java, Gap Analysis and technical guidance Laboratory Management System PDAM Samarinda Kaltim, Gap Analysis and technical guidance Laboratory Management System Badan Lingkungan Hidup (BLH) Sulawesi Tenggara, Technical Guidance Standard Operating Procedure PT Kaltrabu Indah-Banjarmasin, Gap Analysis and technical guidance Laboratory Management System PT Medifarma Indonesia, CV Surya Pratama, PT Sararasa Biomas, PT Putera Prakasa Abadi, PT Spektris Metalab, BP2KSI, PT Zena Nirmala Abadi, Columbia Hospital Medan dan masih banyak lagi lainnya.
DURASI
3 Hari (Efektif 14 Jam: 09.00-16.00)
INVESTASI
Rp 7.500.000,00/peserta
FASILITAS
Sertifikat, Modul (Soft dan Hard Copy), Training kit (Ballpoint Tas jinjing), Tas Ransel, Jacket, Lunch, 2x Coffe break, foto bersama, Pelatihan dilaksanakan di BMD Building Centre/Wisma Puspiptek (Teori)
INFORMASI DAN PROMO
Hub      : 021 – 756 3091
Fax       : 021 – 756 3291
CONTACT PERSON
0813 8280 7230, 0877 8868 8235
JADWAL TRAINING SUBSAMPLING SAMPLE LABORATORIUM TAHUN 2019:
22-24 Juli 2019 Bandung
26-28 Agustus 2019 Yogyakarta
23-25 September 2019 Bandung
21-23 Oktober 2019 Yogyakarta
25-27 November 2019 Bandung
16-18 Desember 2019 Yogyakarta
REFERENSI
PT. Indominco Mandiri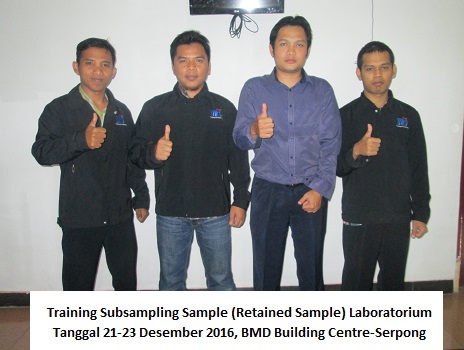 Silahkan review dokumentasi program pelatihan kami dibawah ini, atau klik disini untuk video-video dokumentasi lainnya